Our Location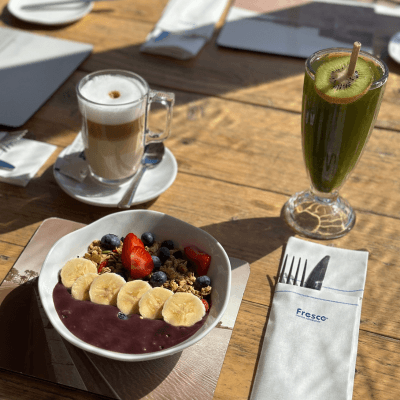 The Marina Plaza is a unique space in the heart of Sotogrande Marina.
When we first saw the building and the departure of previous occupants, we decided we could not let such an important central location on the waterfront fall derelict…so we decided to restore it and bring it to life.
Over six months of hard (but exciting) work, it was converted into a relaxed all-day eating and drinking venue with its own multi-functional spaces and amenities. We wanted a place where we could serve the great foods we had discovered on our travels but always incorporating the region of Andalucia and the incredible local producers.
Find us
To reach the port of. Sotogrande driving, use highway AP-7 and exit at km133. Follow the signs to 'Puerto de Sotogrande'. Fresco is located in the Marina of the port of Sotogrande. 24 hour parking is available at the 'Mercado del Levante'. You will exit from gate number 2 and Fresco is on your right.