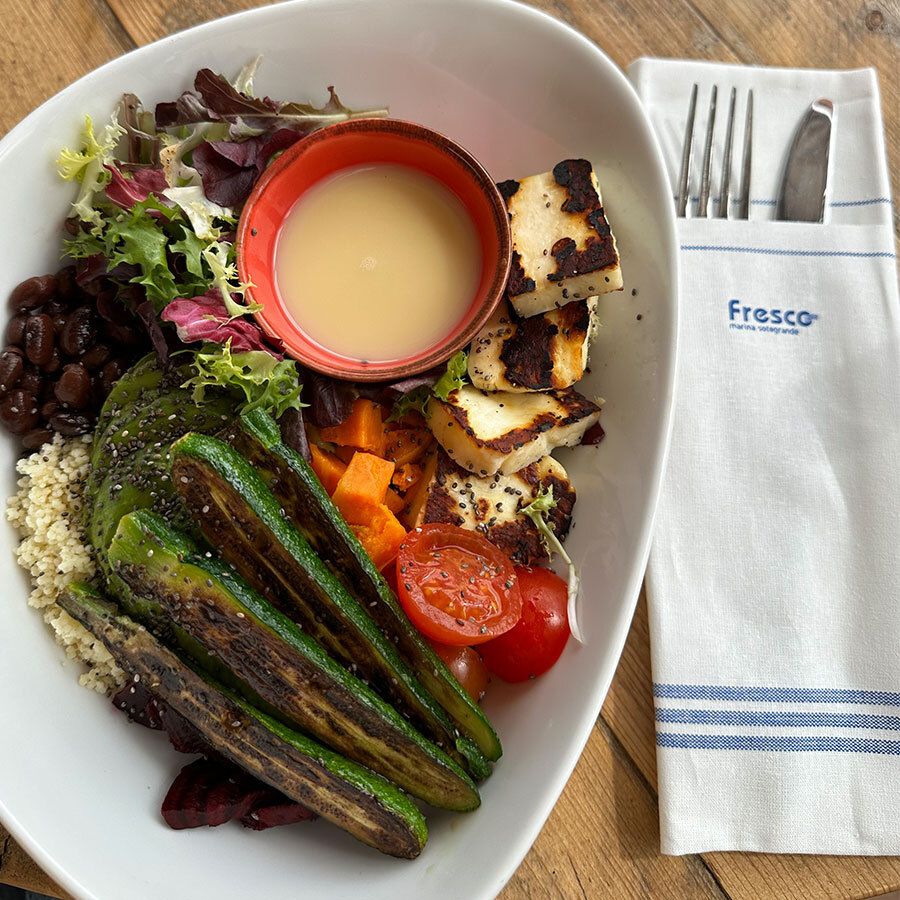 Outstanding dishes from around the world

Fresco Marina
Open seven days a week
9am - 11pm
An exciting culinary experience featuring outstanding dishes from around the world
Dishes are innovative, internationally inspired and faithful to local traditions.
The choice of dishes is adventurous whilst the ingredients are locally sourced whenever and wherever possible.
Combining a blend of Spanish, Asian, Latin and Central American cuisines, our menus are not only inspired by the countries of the world, but the unique Asian, Latin and Mediterranean communities which inhabit them. From sushi and the freshest raw seafood, vegetarian and vegan gastronomy to carefully sourced grilled meats and fish; our chefs use both traditional and cutting-edge techniques along with seasonal and vibrant ingredients to transport you to different continents.
Drawing from Andalusian heritage, world travels and our own creativity we pledge to put our heart and soul into every plate we serve.
Learn more about our menu
Menu
What people say about us…
I was so impressed with this restaurant. The food was amazing the best I've had since my trip to Sotogrande. A hidden gem and not to be missed. Staff really care about providing a great experience and very good value for money. We will be going back as it was a pleasure to dine there. So accommodating for our young son and dog and we were made to feel very welcome. But above all the food was top quality so don't miss this place.

I visited Fresco for the first time at the weekend and the food was nothing short of fabulous! The menu covers a wide variety of tastes and is great for all the family - even the fussy younger members of the family were spoilt for choice. The staff were extremely friendly, and their service was great. The atmosphere was very charming yet relaxed and comfortable too. I noticed they are open right through from breakfast to lunch to dinner and there are even baby changing facilities... something I often find quite hard to come by! They really have considered everything. Fresco will be my new first port of call when in Sotogrande.

We enjoyed an excellent visit at the weekend. The food was innovative and the staff were friendly and attentive. The setting was beautiful with excellent surroundings and we shall be back soon.

Amazing food and lovely staff, located in a peaceful and picturesque area on the marina. Easy to get to, loads of parking space. Ranks #1 in places we have eaten on our trip by a long way and we will be returning before we leave!

Today we have gone to this restaurant and the truth is that the experience has been 10 out of 10. The food is very good and of good quality but even better has been the service from Alegría, who in addition to being kind and friendly has given us great advice, the impeccable treatment. We went with our pet and everything was perfect. We will return without a doubt and we recommend it 100%.

I tried it last night for the first time as I have not been in Blue Sotogrande in a while and I am truly glad I discovered this place. Not only was the food absolutely fantastic but the service was great! They had a lot of variety, including a selection of tapas, we went for a selection of starters and a tapas to share. The whole experience was wonderful, will definitely be back.
Our location
To reach the port of. Sotogrande driving, use highway AP-7 and exit at km133. Follow the signs to 'Puerto de Sotogrande'. Fresco is located in the Marina of the port of Sotogrande. 24 hour parking is available at the 'Mercado del Levante'. You will exit from gate number 2 and Fresco is on your right.
Find Us
Ribera del Marlin, 20, Marina del, Av. de la Marina, 11310 Sotogrande, Cádiz, Spain
Contact Us